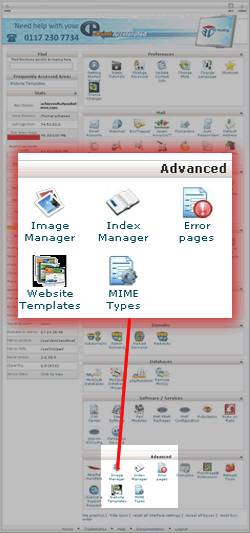 We have arranged for a large collection of templates to be made available to all of our customers who have a hosting account with us. Please be aware that these templates are only suitable if you already have some knowledge of HTML or Flash coding as they will need editing to meet your needs. If you are looking for a template that needs no real experience then please check out our Site Builder Demo.
The template collection has been added to your cPanel and it is indexed by various categories to help you find something suitable for your site. Your cPanel is accessed by entering your domain name followed by /cpanel - e.g. www.3cellhosting.com/cpanel. You will then be asked for your username and password, which were supplied in your welcome email. These details can also be retrieved from our support area if necessary.
At the bottom of the cPanel, in the Advanced section, you will see the icon for Website Templates. By clicking on the icon you will be shown the available template choices. Just click on your selection and follow the instructions on screen.
4,500 Templates
Over 100 categories
Accessible whenever it suits you
Available in HTML and Flash formats
Installation service available
Clicking on the template image will show a preview of any Flash effects. To download the template just click on the 'Download' link below the template image. Save the zip file to your pc and then unzip the contents. The zip file will contain two folders, with_fl = Flash version, and without_fl = HTML version. Inside these folders will be the rest of the required files. To test the template on your pc just navigate to the preferred option (with or without Flash) and then go to the 'html' folder and double-click on the 'index' file. This will open the template in your default browser.
The folders marked 'PSD' will contain the original graphics files should you wish to make any changes.
If you find a template that you like but need some help to make adjustments or to install the template then please fill out one of our support tickets and we will contact you to discuss the best way forward.