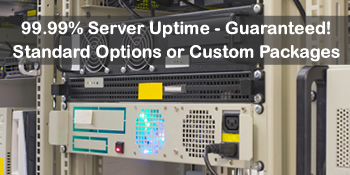 We are dedicated to providing reliable web hosting solutions of the highest quality. All of our plans come with a 99.9% uptime guarantee. Our focus is on reliability, uptime, and customer support.
Pricing starts from as low as £38.00 per year! All accounts are set up as soon as payment is confirmed so you could have your site live in a very short time.
The servers we utilize are Dual Xeon 2.4ghz with 2 gigs of ram. Our network backbone consists of UUNET, Level3, Verio, Time Warner, Global Crossing, AboveNet, and Allegiance Telecom.
Background:
We have been using web hosting solutions since 1990. With a rapidly expanding business due to improved customer confidence in secure internet purchasing we found that some providers were charging high prices for poor service. With our experience of being customers we have decided to play them at their own game. At 3cellhosting we have decided to provide our own hosting packages at sensible rates for the services offered.
Our Network:
The Planet Data Centre at Dallas
3cellhosting has chosen The Planet to provide its customers with superior network connectivity with minimal required downtime. Located in Dallas, Texas, The Planet's Data Center boasts over 35,000 square feet of raised floor space featuring state-of-the-art security, safety, and cooling systems and is second-to-none in the industry.
Data Center Features:
(21) 26-ton Data Air AC units Pre-action dry pipe sprinkler system
Over 500 smoke detectors in an integrated system
Simplex security badge entry/exit on all doors to facility
Multiple TXU electrical grids
4800 volts of input power
3 main transfer switches
1-megawatt generator (2000-gallon tank)
1.5-megawatt generator (2200-gallon tank)
DataTrax monitoring software for all data center infrastructure
Network Infrastructure:
Choosing 3Cell Hosting means that your sites will be accessible via a fully meshed and redundant Certified Cisco Network featuring 10 backbone providers. These providers include:
UUNet (GigE)
Sprint (GigE)
Level 3 (GigE)
Global Crossing (GigE)
Verio (GigE)
AT&T (GigE)
Time Warner (GigE)
Allegiance Telecom (2 x GigE)
Broadwing (GigE)
AboveNet (2 x GigE)
Guarantee:
Your site will have a 99.9% uptime. If we fail to deliver we will refund you!